R12.2 is the latest release of Oracle EBS. Here are R12.2 RapidWiz  Installed Components and System Requirements
Technology Stack Components
For a new Release 12.2 installation, Rapid Install automatically installs and configures the required technology stack components for both the database tier and the application tier.
On the database tier, the technology stack includes:
Oracle Database 12c Release 1 (12.1.0.2)  (  This is when we don't select use existing oracle home)
On the application tier, the technology stack includes:
Oracle Fusion Middleware 11g PS7 (11.1.1.9.0)
Oracle WebLogic Server 11g PS5
Oracle WebLogic JSP compiler
Oracle FMW 11g Java Required Files (JRF) libraries (except the use of ADF and MDS 11g)
Oracle WebLogic Portlet 11g PS3 Container
JDK 7.0
Apache version 2.2
Oracle 10g (10.1.2) Applications Server for Oracle EBS Forms based Applications
Web Services
The Web services component of Oracle Application Server processes requests received over the network from the desktop clients, and includes the following major components:
Web Listener (Oracle HTTP Server powered by Apache)
Java Servlet Engine (Oracle WebLogic Server, WLS)
The Web listener component of the Oracle HTTP server accepts incoming HTTP requests (for particular URLs) from client browsers, and routes the requests to WLS.
If possible, the Web server services the requests itself, for example by returning the HTML to construct a simple Web page. If the page referenced by the URL needs advanced processing, the listener passes the request on to the servlet engine, which contacts the database server as needed.
Disk Space Requirements
The approximate file system disk space requirements for a standard installation are:
Node: Space Required:
Applications node file system (includes

OracleAS 10.1.2 Oracle Home, Oracle FMW

Oracle Home, COMMON_TOP, APPL_TOP,

and INST_TOP)

 

64 GB (for the dual file system required by

online patching – see note below)

 

Database node file system (Fresh install)
90G
Database node file system (Vision Demo

database)

200 GB
The database node disk space requirements for both the production database and the
Vision Demo database include database files (.dbf) and the 12cR1 (12.1.0.2) database
Oracle Home.
Important: The introduction of Online Patching in Oracle E-Business Suite Release 12.2 means that the disk space required size for the application tier is significantly larger, since the APPL_TOP,
COMMON_TOP, INST_TOP, OracleAS 10.1.2 Oracle Home, and Fusion Middleware Oracle Home are in effect duplicated to provide the dual file system online patching requires.
OS requirement
Operating system must have certain prerequisite in order for successfull installation. Check out the below link for the requirement on Solaris
Solaris OS parameter required for R12.2 Upgrade
We can likewise find the OS requirement for Linux/AIX
CPU/Memory Requirement
The CPU requirements for an upgrade depend on many factors, including:
• The size of the database
• The volume of data in the primary product installation group
Note: You may have multiple Primary Products.
• The number and duration of long-running patch worker processes associated with
products that have intensive upgrade operations
• Desired response time
To calculate the memory requirements for an upgrade, consider the following:
• Number of concurrent users
• Infrastructure requirements for multi-tiered architecture
Additional Information: For statistics on these production system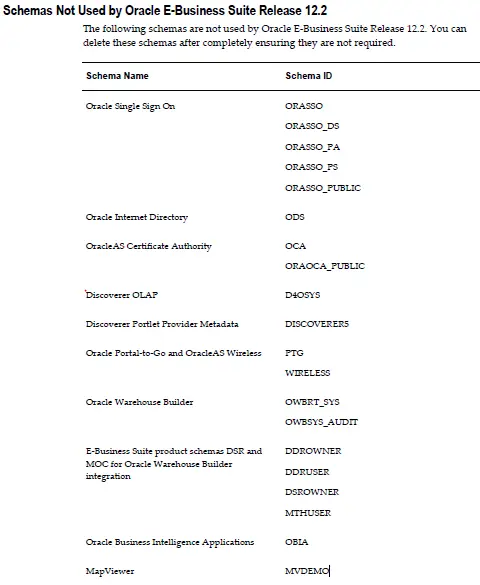 Related Articles
Important Changes in Autoconfig R12.2
Oracle E-Business Suite Architecture in 12.2
How to re-attach 12.2 E-Business Oracle Homes to the central inventory