R12.2 is the latest release of E-Business Suite from Oracle. It contains the latest technology stack and it contains many new features .Most important is the online patching feature.
Oracle  R12.2 Architecture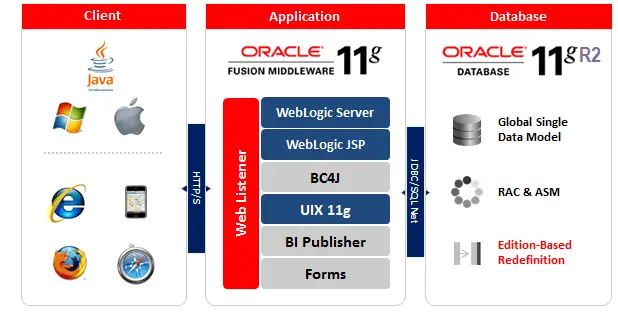 Difference between  R12.1 and R12.2 technology stack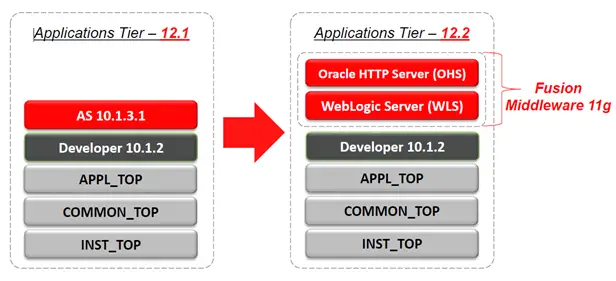 The most substantial difference is the inclusion of weblogic server in place of 10.1.3 Oracle home . Developer home (10.1.2) remains in the both the release
All the services are started from Weblogic home.
Here are the version of the techstack in various Oracle Apps Release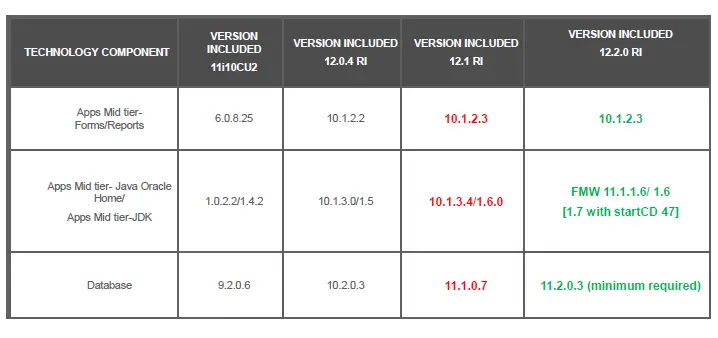 Important things about Oracle  R12.2 Architecture
Oracle E-Business Suite is deployed on Oracle Weblogic Server
Oracle JRockit JVM is certified and recommended on Linux and Windows OS
Most of the common middle tier technology components  from Oracle Fusion Middleware 11gR1
Web Services enabling technologies: Standardized on jax-ws from Oracle Fusion Middleware 11gR1
EBS 12.2 is installed with 3 file systems
FS-1 (Production file system)
Used by the current users of the system
FS-2 (Copy of Production file system)
Used by the patching tools
F-NE (Non Editioned file system)
Stores data that is stored on the file system

Data import and export files

Report output

Log files
Related articles
40 question you must know about R12.2
How to clone R12.2 environment
R12.2 Online patching cycle Summary
Adop(Ad online patching utility) explained R12.2