The Login page in Oracle E-Business Suite 12.2.5 and later may display button misalignment
Correct Login Page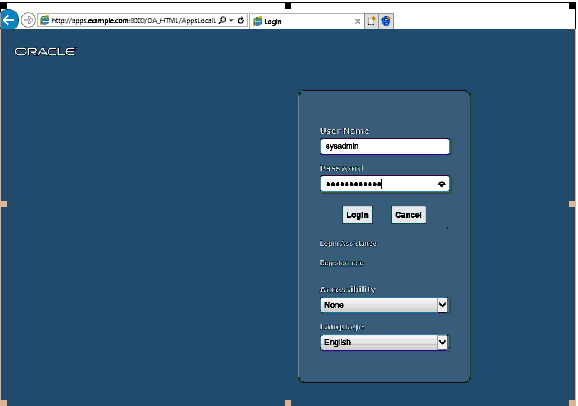 Incorrect One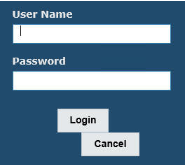 Reason and Fix
Oracle E-Business Suite 12 is not certified with IE11 using either 'Enterprise Mode' or 'Compatibility View'.
Enterprise Mode: Internet Explorer 11 includes an 'Enterprise mode' which can be used to emulate Internet Explorer 8 behavior and provide compatibility for earlier browser standards. This should not be used with Oracle E-Business Suite as it will have no effect on certain issues. If you need to use 'Enterprise Mode' for other applications then EBS should be added as an exception to bypass it.
Compatibility View: It was previously recommended to run E-Business Suite using the browsers 'Compatibility View'. These display issues have been fixed for IE11 through the patches listed in the IE 11 Prerequisite Patch Requirements below. Once you have applied the prerequisite patches, you should run E-Business Suite pages without enabling the 'Compatibility View' feature in the browser.
You can check this by navigating to Internet Explorer 11 -> Tools -> Compatibility View settings, and ensuring that:
•Your instance domain is NOT part of the Compatibility View settings, and
•The 'Display intranet sites in Compatibility View' is unchecked.
Related Articles
Login flow in R12.2 and basic troubleshooting
40 question you must know about R12.2
Important Changes in Autoconfig R12.2
Service Group changes in R12.2
How to add the manage server in R12.2
How to clone R12.2 environment