Oracle Cloud: Infrastructure-as-a-Service Overview
Oracle's Infrastructure-as-a-Service (IaaS) provides a complete infrastructure for enterprise workloads, including compute services, storage services, and network services. It enables organizations to run any type of workload in the cloud and in particular run Oracle workloads in the most optimized way.
This gives an excellent option to clients to not purchase hardware and instead can purchase IaaS resources based on consumption
IaaS users are responsible for managing applications, data, run-time, middleware, and Operating systems. So you still need a lot of IT resources to manage these things. It basically means your data center is in the cloud.
IaaS Providers like Oracle still manage virtualization, servers, hard drives, storage, and networking.
The advantage here is that users can install any required platform on top of IaaS.

Let's take a look at various offerings by Oracle in Infrastructure-as-a-Service 
Oracle Compute Cloud Service –
Oracle's IaaS solution, Compute Cloud Service, provides elastic compute capacity, enabling you to adjust capacity to address varying business needs.
In short, it is an Infrastructure-as-a-Service solution that provides on-demand, scalable compute resources—virtual machines with the required networking and storage resources—in the public cloud.
We have the following options available with Compute cloud service
1) Shared or General Purpose Compute:
A fully scalable multi-tenant virtual compute environment to run applications with predictable, consistent performance and built-in resiliency. You can rapidly provision virtual machines on Oracle Cloud with all the necessary storage and networking resources, manage and scale your virtual machine topology in the cloud easily, and migrate your Oracle and third-party applications to Oracle Cloud. It is available in many shapes to suites to your requirement
2) Dedicated Compute
Dedicated computing provides a completely dedicated compute zone for each tenant, predictable performance, and complete network isolation.
Basically with this offering, Company or organization get a compute environment that's isolated at the hardware level. These virtual machines (called instances) run on hardware that's dedicated to you. You enjoy complete network isolation from other tenants. You can choose from Oracle's enterprise-grade x86 or SPARC servers. This protects you from noisy neighbors and gives you predictable performance
Both the shared and dedicated options provide secure access, a dynamic firewall, and life-cycle management to manage images and to orchestrate the provisioning and automation of life-cycle operations. The key difference is that while shared compute provides core capacity provisioned on a multi-tenant compute resource, dedicated compute provides a completely dedicated compute zone for each tenant, predictable performance, and complete network isolation.
3) Dedicated Compute ( Sparc)
This is another form of Dedicated compute offering from Oracle.SPARC Compute is a highly efficient platform for running production, development, and test workloads for enterprise applications, databases, and analytics.
Dedicated compute capacity means that one customer has exclusive use of the hardware, eliminating concerns about other customers acting as noisy neighbors that impact performance or nosy neighbors that raise security concerns.
SPARC Compute runs on the world's fastest processor, the SPARC M7, which has set over 23 world records and dramatically outperforms x86 for Java, database, in-memory, and security workloads. SPARC Compute offers superior performance for real-time analytics through on-chip query acceleration and memory decompression. The SPARC M7 processor also delivers vastly more efficient virtualization than x86, so customers can run more applications in their cloud infrastructures with less resource and performance overhead.
We have other Oracle compute cloud services also like Next-generation bare Metal Compute Service, Engineered system IaaS, Container Service, and Ravello service. We will go into detail for those in another post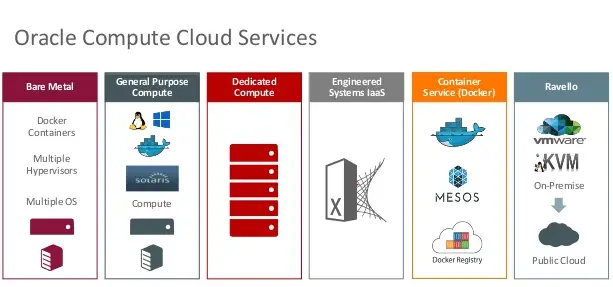 Important Points about the Compute Services
1) You can use one of several Oracle-provided machine images to quickly provision robust virtual machines.
Images provided by Oracle partners are available in Oracle Cloud Marketplace.
You can also build custom machine images based on the operating system and disk size of your choice and use those images to create virtual machines
2) We can configure Oracle Compute Cloud Service Linux and Solaris instances (virtual machines) to be accessed securely from remote hosts by using SSH, and can configure Windows instances to be accessed securely by using RDP.
3) Oracle Compute Cloud Service is compatible with several operating systems. Some images are provided by Oracle, and some are provided by Oracle partners.
Operating System
Versions
Image Provided by
Oracle Linux
Oracle Linux 5, 6 and 7
Oracle
Ubuntu
Ubuntu Server 14.04-LTS amd64

 

Ubuntu Server 15.10 amd64

Ubuntu Server 12.04-LTS amd64

Oracle partner
CentOS
CentOS 6 and 7
Oracle partner
Debian
Debian 8 (Jessie)
Oracle partner
Microsoft Windows
2008 R2

 

2012 R2

Oracle
Oracle Solaris
Oracle Solaris 11.3
Oracle
SUSE
SUSE Linux Enterprise Server 11

 

SUSE Linux Enterprise Server 12

Oracle partner
Oracle Network cloud service
This is another IaaS Offering from Oracle for customers. Oracle Network Cloud Service offers Site-to-Site VPN for Dedicated Compute customers and Fast-connect for all Oracle Cloud customers. Site-to-Site VPN securely extends your on-premises network to your dedicated Oracle Compute zone
We have the following options available with Network cloud service
VPN for Compute
VPN for Compute offers two distinct solution options:
a) Deploying Oracle's Corente Services VPN Gateway (CSG) in your on-premises data center
b) Leveraging your existing third party VPN software or hardware solution in your data center
The On-Premise VPN gateway (Oracle's Corente Services Gateway or a third party device) connects to the Oracle public cloud over a secure 256bit encrypted IPSec tunnel.
Virtual Machines in the Oracle Public Cloud communicate with your On-Premise data center over this IPSec VPN tunnel
VPN for Dedicated Compute
Oracle Network Cloud Service – Site to Site VPN is a secure, reliable, and cost-effective solution for expanding your private network. Enterprises can securely connect to Oracle's Dedicated Compute zone over IPSec tunnels as part of their virtual private network. Oracle Network Cloud Service – Site-to-Site VPN eliminates the need to invest in leased lines for more security and peace of mind. Available as a Service (VPNaaS) on Dedicated Compute in Regional Cloud.
Oracle Storage Cloud Service
It is an object storage solution that enables businesses to securely and reliably store files and unstructured data in the cloud. Data can be stored or retrieved, at any time, from any device connected to the Internet.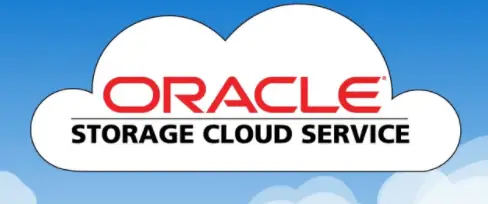 Following options are available from Oracle  for this IaaS offering
Oracle Storage Cloud Service – Object Storage
This can be used to store both structured and unstructured data. Designed for enterprise-class data protection and sharing with easy access from anywhere on the internet.
Oracle Storage Cloud Service – Archive Storage
The most cost-effective storage in the industry. Designed for infrequently accessed data with enterprise-grade security, resilience, and elastic scalability. It is quite cheap and easy to use
Oracle Database Backup Service
This is for storing oracle database backup in the cloud. This is a unique offering for oracle database, Oracle Database customers with direct, cost-effective integration with RMAN so you can take advantage of cloud-based data protection with current IT processes and staff.
Oracle Storage Cloud Software Appliance
It is a way to provide Oracle's storage cloud as a secure, POSIX compliant, local NFS interface. We can use Oracle Storage Cloud Software Appliance in the data center to copy data to and from Oracle Storage Cloud Service through standard file-based network protocols.
Also Reads
Linux Operating System and Distribution : Article about Linux Operation system, Kernel, Various distribution available in Market. Learn about Oracle Enterprise Linux
oracle cloud infrastructure : Oracle Infrastructure as a Service is called Oracle Cloud Infrastructure (OCI).It offers storage,compute ,database, networking, edge services
OCI block storage : OCI Block storage is the NVMe SSD based storage that you can attach to any compute instance that was launched. Check out about backup, cloning
Local NVMe storage in OCI :Local NVMe storage is a SSD based temporary storage. Check out details about Local NVMe storage in OCI and how to use it in Oracle cloud
what is cloud computing : Learn about what is cloud computing and how it can benefit organizations. Various cloud model , cloud vendors , cloud examples
iaas paas saas : Learn about Cloud Computing Basics: iaas paas saas with offerings
https://en.wikipedia.org/wiki/Oracle_Cloud
Recommended Courses

Oracle Database Migration Methods: On-Prem to Oracle Cloud
: It covers different Strategies and methods that you can use to migrate from On-Prem to Oracle Cloud (OCI) along with a method to migrate from AWS RDS to OCI as well. A good and must-have course for DBA moving to Cloud platform
Building Oracle Cloud Infrastructure using Terraform 2020
: Learn about creating OCI Compute, Network, Identity, Database, Analytics resources creation using Terraform. A good course for those who want to expert in Terraform
Foundation to Oracle Database in Oracle Cloud Infrastructure
: It covers Basics, Architecture, Database Deployments, Connectivity Scenarios, ADB in OCI. A quick course to start with Oracle cloud infrastructure